Role of Education Software
---
Posted on 06 Jan 2020 By Admin
---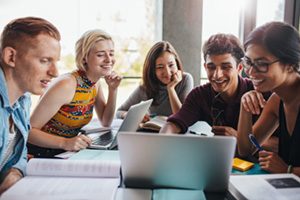 ---
In our country, academic institutions are the organizations that play a vital role in moulding a student life properly. To ensure success, we believe, Values based discipline is a must in Students life. Similarly school should also manage their database properly (school database management) and perform all functions related to running the school in an efficient manner.
A solution that helps in smooth functioning of a school is an automated school management software which covers all functionalities of the institution on a centralized manner. In the internet era, these software proves to be a positive and effective way of managing school activities in an automated and centralized manner, as taken care in our ERP school software.
For a big education institute,  it is very important to become digitized so that they are able to keep pace with time. There are various reasons that lead the importance of school management software in education sector.
Simplify the working of education institute
The major benefit of school software is that, it makes the education system a lot simpler with current animation methods. These software can guarantee you consistent and uninterrupted and allow modifying the data as and when required.
Finest product that make things easy
A best  School Software is able to take care of numerous tasks under one roof and produce the desired output. We believe, the below products on a centralized database is helpful for the management:
♦     A Centralized software solution that can cater Total Vendor Management requirements under one roof
♦     Smart Class solutions for a Digitized Learning
♦     English Language Lab for English Proficiency
Good investment of money
We recommend any Company who is reliable in the market and offer a reasonable RoI (Return of Investment) who is in a position to take care of the institution requirements on a centralized database, covering total vendor management solutions.  This kind of atmosphere will help the management not to depend on any resource for any data or info that are urgently required. Management need to have access anytime anywhere the complete school data which help them for effective decision making.
An excellent experience for users
CERP School software is designed with an ideology to provide an absolutely new culture and standard of education in line with global competition for schools. The software must cater to the current trend of requirements, user friendly and Mobile enabled. It must help the students to become brainees, creative way of thinking to be independent in Life. An environment where we can prepare a student to meet the contemporary challenges, and focus more on a Value Based Education system.
Compatible with any system
The School Software need to be user friendly, administrators are able to view data anywhere, anytime 24×7 and make changes according to their requirement. It must be Mobile Enabled, atleast Android versions.
Thus a School Management builds its importance in education sector and becoming a useful contributor to the school management, CERPSoft design a Cloud& mobile based school management ERP software that easily manage all advanced school related activities like Online/Offline-fees, Automated Attendance, Teacher substitutions, Automated OnLine and offline exams, Centralized solutions under One Roof, Total Vendor Management solutions, ensuring child Safety and many more. We are in a position to offer a Total Automated Solution under IOT (Internet Of Things) based on a school requirement.
Leave a Comment: